Austin Home & Garden Show Tips
Whether you're enjoying a presentation at our Main Stage or vetting contractors for a massive home renovation, there's plenty to do and see at the Austin Home & Garden Show! We want you to have an incredible time, so we've compiled a list of a few helpful things to know. These essentials are handy for a first-timer, or someone who's been to the show for years.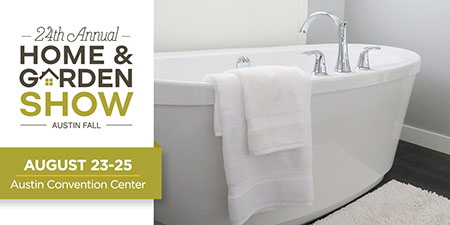 - Parking is FREE, but there are limited spaces available. We suggest you arrive early to get a good spot and enjoy a full day at the show. Doors open at 2pm on Friday, 10am on Saturday, and 11am on Sunday.
- Buying tickets online automatically saves you money! Tickets are $8 online, or you can buy for $10 at the door. Click here to buy your tickets. When you buy online, you'll get an email with your tickets. You can print it off or show the email on your phone to enter the show.
- Not smartphone savvy? Be sure to bring a notepad to jot down notes while talking to vendors. It's an easy way to keep track of estimated costs and options.
- Don't worry about hitting the show floor on an empty stomach. There are food and beverages available for purchase at the concession stand.
- Luck favors the prepared! Have your top projects in mind so you don't forget to visit everyone on your checklist.
- The Austin Convention Center is going to be full of hundreds of local home pros. Be sure to wear comfortable shoes, since you'll be doing quite a bit of walking.
We hope you have a wonderful time at the show! Have a Home Show tip you swear by that wasn't mentioned here? Be sure to share it with us on Twitter (@austinhomeshows) and in our Facebook Event!
Aug 13, 2019, 12:00 PM